Visitors Center: Campus tours start in Norwood Hall!
Classrooms and Labs
James E. Bertelsmeyer Hall
Butler-Carlton Civil Engineering Hall
Computer Science Building
Emerson Electric Company Hall
Engineering Management Building
Fulton Hall
Gale Bullman Multi-Purpose Building
Harris Hall
Humanities and Social Sciences Building
Interdisciplinary Engineering Building
Kennedy Experimental Mine
V.H. McNutt Hall
Physics Building
Pine Building
Rock Mechanics and Explosive Research Center
Rolla Building
Schrenk Hall
Toomey Hall
Research/Support Facilities
Compressible Flow Laboratory
Engineering Research Laboratory
MSTR
Technology Development Center
Temporary Research Facility
Straumanis-James Hall
Curtis Laws Wilson Library
Student Housing
1303 N Elm St. (Townhouses)
Miner Village
Residential Commons 1
Residential Commons 2
Rolla Suites Building 1
Rolla Suites Building 2
University Commons
Thomas Jefferson Residence Hall
Campus and Student Support
209 E. 8th St. (Printing and Mail Services, North Warehouse, and South Warehouse)
710 W. Tim Bradley Way
800 W. Tim Bradley Way
1200 N. Pine St.
PCRMC Annex
Allgood-Bailey Stadium
Altman Hall
Athletic Fields
Castleman Hall
Centennial Hall
Chancellor's Residence
Child Development Center
Custodial and Landscape Services Building
Farrar Hall
Fitness Center (Located at the Gale Bullman Multi-Purpose Building)
General Services Building
Hasselmann Alumni House (Miner Alumni Association)
Havener Center
Kummer Student Design Center
Miner Dome Indoor Practice Facility
Norwood Hall
Parker Hall
Student Diversity Initiatives Center
Student Health Complex
Student Recreation Center (Located at the Gale Bullman Multi-Purpose Building)
University Police
Campus Landmarks
EcoVillage
Millennium Arch
Observatory
Pedestrian Bridge
Jack Carney Puck and Plaza
Solar Village I
Stonehenge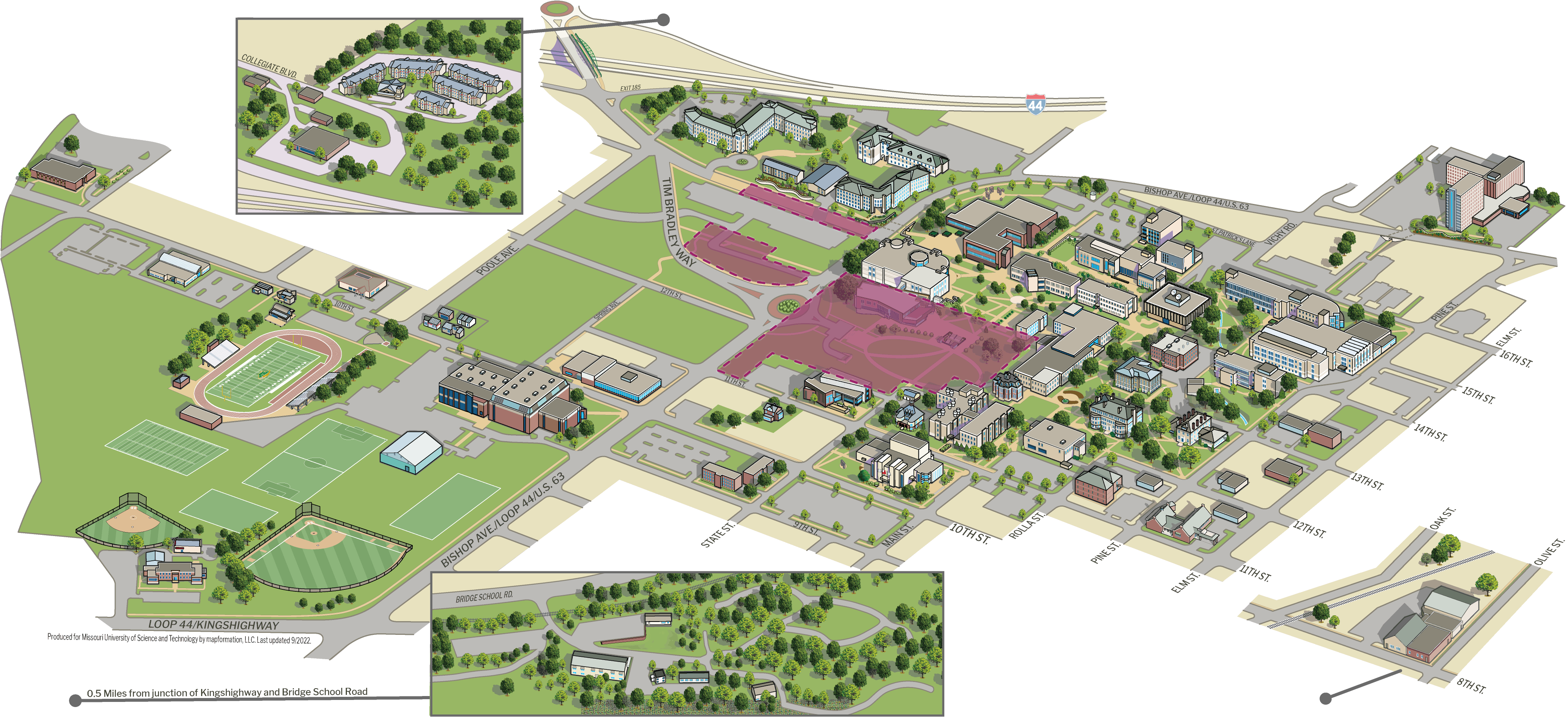 Tip: Choose a number on the map or a location in the list to reveal that location.